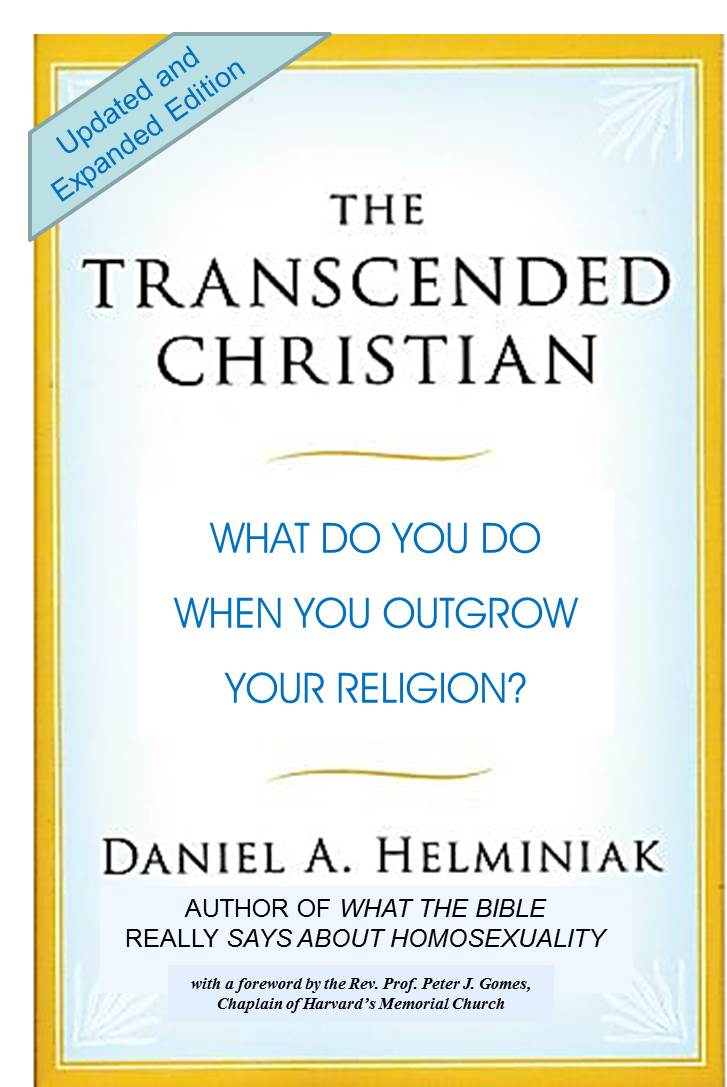 An excerpt from chapter one defining the "transcended Christian"
An excerpt from chapter five, published in The Advocate, April 24, 2007, p. 53.
An excerpt on abortion from chapter fourteen
In eighteen essays on contemporary Christianity, a Catholic priest mines his gay experience for spiritual wisdom relevant to all people who have grown beyond their own religion. Treating traditional religious topics in an inspirational tone, these essays convey a consistent understanding of how someone can remain a committed Christian and still live with personal integrity and an embracing spirituality in a pluralistic society on our shrinking planet.
Also pulling no punches, Daniel criticizes dogmatic and fundamentalist religion that claims divine authority while ignoring contemporary scholarship, science, and geopolitical trends. This book emphasizes wholesome living in a global community and downplays religion's other-worldly claims, all the while insisting that such an emphasis is the genuine Christian message. Weaving explosive statements with sincerely pious rhetoric and creative explanation, Daniel boldly treats topics such as
the spiritual necessity of breaking religious or cultural taboos,
the human heart and soul as the starting point of all religion,
the meaning of revelation and the problem of claiming it today,
the distraction caused by insistence on the divinity of Jesus,
the liberation found in the doctrine of the Holy Spirit,
the ecumenical thrust of Communion in the Body of Christ,
the forgotten Christian promise of union with God: deification,
the irrelevance of many traditional Christian feasts,
the mistake of public reading of ancient, confusing Scriptures,
the spiritual convergence of Western and Eastern religions,
the need for a new sexual ethics,
the ethical legitimacy of abortion,
the moral bankruptcy of consumerist capitalism,
the religious requirement for political activism,
the prophetic role of religious outsiders in our day,
the liberated role of women in church and society, and
the restricted role of the pope in a united Christianity.
These essays take the experience of gay and lesbian Christians as an example of the current spiritual crisis: religious people ousted by their church claim that they are the true prophets of the day. This book addresses parallel cases:
divorced people condemned by their religion,
young adults unwilling to live under traditional sexual restraints,
women seeking ordination in the churches and equality in society,
sincere seekers feeling spiritually squeezed by denominational narrowness,
educated and thoughtful believers questioning traditional doctrines and ethics.
Daniel understands the term Christian in the traditional sense that applies to the mainline churches. In contrast, he explicitly sees Biblical Fundamentalism as a new religion that has branched off from Christianity (see also Sex and the Sacred, Chapter 13: "Why Biblical Litteralism is Not Christian"). Daniel likewise severely criticizes all dogmatic religion -- including his own Roman Catholicism -- that ignores the findings of contemporary science, emphasizes differences rather than commonalities, and claims divinely sanctioned status for sectarian positions.
With this book Daniel addresses not only Christians but also other spiritual seekers -- including non-Christians, agnostics, non-theists, and atheists. When education and life experience outstrip traditional religion, we need to find a way to reconcile genuine spirituality with realistic living in a global society.
Written in simple prose by a well-published theologian, psychology professor, and gay priest, this book fosters a profound, inclusive, down-to-earth spirituality while forthrightly criticizing dogmatic, pie-in-the-sky, divisive religion. This book spells out how Daniel's Spirituality for Our Global Community applies to Christianity.