Welcome to my website.
I am Daniel Helminiak, and like my namesake, the biblical figure, I have a vision.
My burning concern is spirituality in a pluralistic and secularized world. How could the human family today be one? Whereas religions used to hold communities together, religion now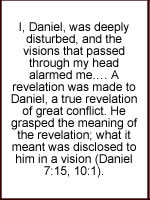 splinters our world. What used to be the solution has become our problem.
We need to forge a core spirituality that would ground a global community. We need to discern a set of essential beliefs and values that could be common to all cultures and religions. Such a spirituality could only be based on what we all have in common—our humanity. In the human heart and soul, we must nurture a spirit that reaches up to the heavens. Thus, there could be common cause among religious and non-religious folk alike, among those who believe in God and those who are non-theist. The spirituality we need must be open to every woman and man of goodwill on the planet. Such a core spirituality is my vision, and I have begun a program to research it.
Serendipitously, unexpectedly, providentially, my shifting life-course prepared me for such a vision. My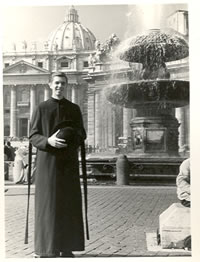 own experience runs the gamut from the intense piety of a simple religious faith to the critical thinking of sophisticated secular science. In my own person I have held these extremes together. With belief in God undiminished, with personal integrity intact, I nonetheless propose a fully down-to-earth approach to spirituality, a hard-nosed insistence on evidence-based opinions even in matters spiritual. Still following Jesus, I hold that "by their fruits you will know them."
Oh, the polar tensions in my life experience! I grew up in an intensely devout Polish Catholic community in Pittsburgh, Pennsylvania, USA. Having entered seminary at a tender age of seventeen, I was ordained a Catholic priest in Rome, where I earned a Vatican license to teach theology (STL: Sacrae Theologiae Licencia = License in Sacred Theology), and for four years I ministered as a parish priest in Pittsburgh. Then, preparing to teach in seminary, I earned a PhD in Systematic Theology at Andover Newton Theological School and Boston College, and for four years I taught core doctrinal courses, on Christology, and God and Trinity, and courses on spirituality at Oblate School of Theology in San Antonio.
At Boston College I was teaching assistant to Bernard Lonergan (1904-1984), whom Newsweek magazine (April 20, 1970, p. 75) styled as the Thomas Aquinas of the 20th century. Aquinas is noted for reconciling the science and religion of his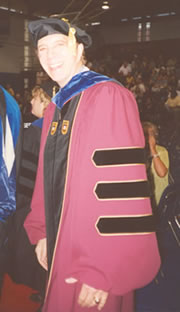 day. Lonergan's thought influences everything I do; it has provided the basis for my proposed core spirituality.
Realizing I am gay, disillusioned with the institutional church, and unable to reconcile my integrity with Vatican expectations, I enrolled at The University of Texas at Austin, earned a PhD in Human Development, withdrew from active priestly ministry (the Vatican has never recognized this resignation: Is my work still the ministry of a bona fide Catholic priest by the Vatican's choice?), and accepted a teaching position.
Until my retirement in mid-2018, when I returned to hometown Pittsburgh, I served as a full Professor in the humanistic and transpersonal Department of Psychology at the University of West Georgia, near Atlanta, and was elected Fellow of the American Psychological Association. I am also trained as a psychotherapist and served as a Fellow of the American Association of Pastoral Counselors and a Licensed Professional Counselor in the state of Georgia. My professional specialization is the psychology of spirituality. On the graduate level I have taught courses on the Philosophy of Social Science, and Consciousness; besides, I regularly taught undergraduate courses on Human Sexuality, Foundations of Neuroscience, Animal Mind, and Introductory Statistics. My professional commitments themselves forced me to address the spiritual questions that unnerve our world.
In a virtually unheard-of convergence of elements, I have been teaching spirituality as a psychology professor at a state university. Besides, my book, What the Bible Really Says about Homosexuality, translated into seven languages, has thrust me into the center of the current culture wars.
Unpredictable turns in my life have led me into a lion's den of global, spiritual turmoil. Here I stand unperturbed, secure in the convictions of my heart and mind, prepared by a charmed life to address the big questions that challenge our world.
I welcome you to my website. I invite you to share a spiritual quest with me. Here you can glimpse the vision of spirituality that I have developed, and you can also have some insight into me. I offer what I have to give: visions of Daniel.
Links to topics of interest on my web site
Core Spirituality and Global Community
Treating Spiritual Issues in Secular Psychotherapy
Abraham Maslow & Bernard Lonergan on Global Community
Extraordinary Religious Experiences and "God" in the Brain
Ken Wilber's Perennial Philosophy      
Ken Wilber: Response to Marquis, Holden, and Warren's criticism of Helminiak  
Roberto Assagioli and Psychosynthesis      
Don Browning's Religious Thought and the Modern Psychologies     
Evangelical Intergration (of psychology and religion) Project
Lawrence Crabb's Model of Integration (of biblical religion and psychology)
Wilhelm Dilthey on natural and social sciences
Summary of What the Bible Really Says about Homosexuality
Why Bible-litterlist "Christianity" is not Really Christian at All
My Frustration with the So-Called "Christians"
Supposed Ethical Objections to Homosexuality
Daniel in the Lions' Den: An Encounter with Dr. Robert Gagnon
Helminiak's Response to Oliff & Hodges on the Bible and Homosexuality (PDF)
Saint Paul's Surprisingly Positive Attitude toward Sex
DignityUSA: Roman Catholic? LGBT-Focused?
Themes in Sexuality and Spirituality
The Nature of Spirituality and Its Connection with Sexuality
Is Abortion Ethically Acceptable?
Updated 12 September, 2022
Copyright 2022, All Rights Reserved.